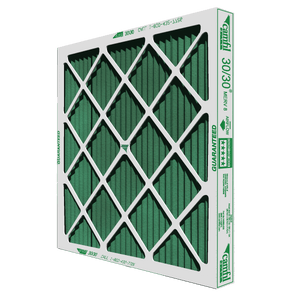 Camfil Farr 30/30 High Capacity MERV 8 Pleated Panel Air Filter - 10x20x1 - Synthetic
The Camfil Farr 30/30 has set the industry standard for pleated panel filters since 1963. With over 50 design enhancements, it continues to provide the industry's best value for medium efficiency filtration.
Setting the standard by which other pleated filters are judged, modern media manufacturing techniques and proprietary technological advancements ensure that the 30/30 is:
• Guaranteed to perform at the rated efficiency, or better, throughout the life of the filter.
• Guaranteed to last longer than any other pleated panel filter available.
Performing at MERV 8/8A and ePM₁₀-50 under ASHRAE and ISO filter testing standards respectively, using a mechanical particle capture principle, the 30/30 will not drop in efficiency while in service as will other pleated panel filters that incorporate an electret charge to obtain an initial MERV 8 value.
Its radial pleat design provides the longest life and lowest average pressure drop reducing the number of filter changes so your facility will use less fan power to move air through the filter.
The high wet-strength beverage frame and welded wire media backing provide structural integrity in any type of HVAC application virtually eliminating the additional costs associated with filter bypass or filter failure.
Available in 1", 2" or 4" deep configurations, the 30/30 is ideal for commercial, industrial, institutional or any other application where the ultimate level of protection of equipment and indoor air quality is a concern.
The 30/30 has an Energy Cost Index (ECI) of five stars, the highest performance rating available.
Specifications
| | |
| --- | --- |
| Manufacturer Part Number | 054862-016 |
| Applications | Used in many systems as a prefilter, the 30/30 extends the life of final filters by capturing larger contaminant and thereby allowing the final filters to concentrate on removing smaller particles such as those that are respirable and can cause lung damage. The 30/30 is also an excellent choice when applied as the only filter in a system to keep coils clean and maintain efficiency, and protect building occupants from contaminants of annoyance such as pollen, plant spores, atmospheric dusts and other indoor air irritants. |
| Nominal Size | 10x20x1 |
| Performance Grade | Better |
| Performance Rating | MERV 8 |
| Filters Out | MERV 8 general purpose pleated air filters provide between 50% and 70% efficiency for filtering particles between 3 and 10 microns in size (such as mold spores, dusting aids, and cement dust). They also provide 20% or less efficiency for filtering particles between 1 and 3 microns in size (such as legionella, lead dust, humidifier dust, coal dust, and nebulizer droplets). |
| Air Filter Capacity | High Capacity |
| Media Type | Synthetic |
| Media Area (sq. ft.) | 3 |
| Pleats per Linear Foot | 16 |
| Frame Material | High wet-strength beverage board |
| Arrestance | >90% |
| Airflow at Rated Capacity (CFM) | 480 |
| Maximum Operating Temperature | 200° F (93° C) |
| Initial Resistance @ 350 fpm (inches w.g.) | 0.23 |
| Initial Resistance at Rated Airflow (inches w.g.) | 0.23 |
| Airflow @ 350 fpm (CFM) | 480 |
| Energy Cost Index (stars) | 5 |
| Certifications | UL 900 |
| Product Depth (in.) | 0.88 |
| Product Height (in.) | 19.5 |
| Product Width (in.) | 9.5 |
| Product Dimensions (in.) | 19.5 x 9.5 x 0.88 |
| Import Designation | Made in USA |
| Country of Origin | United States |
---
Related Products
---