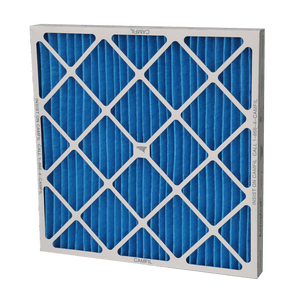 Camfil Aeropleat IV High Capacity MERV 8 Pleated Panel Air Filter - 12x24x2 - Synthetic/cotton blend
The Camfil Aeropleat IV extended surface pleated filter offers more media for high dirt-loading applications. The Aeropleat IV has a MERV 8 when evaluated per ASHRAE Standard 52.2.
As a stand-alone filter, the Aeropleat IV will remove many contaminants associated with today's indoor air quality concerns. Available in 1", 2" and 4" depths, its increased media area offers an extended service life when compared to standard capacity pleated filters. Applications include commercial buildings, educational facilities and specialty manufacturing. As a prefilter, the Aeropleat IV offers protection for the higher efficiency final filters required for today's high-technology applications.
Specifications
| | |
| --- | --- |
| Manufacturer Part Number | 400010-006 |
| Applications | Used in many systems as a prefilter, the Aeropleat IV extends the life of final filters by capturing larger contaminant and thereby allowing the final filters to concentrate on removing smaller particles such as those that are respirable and can cause lung damage. The Aeropleat IV is also an excellent choice when applied as the only filter in a system to keep coils clean and maintain efficiency, and protect building occupants from contaminants of annoyance such as pollen, plant spores, atmospheric dusts and other indoor air irritants. |
| Nominal Size | 12x24x2 |
| Performance Grade | Better |
| Performance Rating | MERV 8 |
| Filters Out | MERV 8 general purpose pleated air filters provide between 50% and 70% efficiency for filtering particles between 3 and 10 microns in size (such as mold spores, dusting aids, and cement dust). They also provide 20% or less efficiency for filtering particles between 1 and 3 microns in size (such as legionella, lead dust, humidifier dust, coal dust, and nebulizer droplets). |
| Air Filter Capacity | High Capacity |
| Media Type | Synthetic/cotton blend |
| Media Area (sq. ft.) | 8 |
| Pleats per Linear Foot | 15 |
| Frame Material | High wet-strength beverage board |
| Arrestance | >90% |
| Airflow at Rated Capacity (CFM) | 1000 |
| Maximum Operating Temperature | 200° F (93° C) |
| Initial Resistance @ 500 fpm (inches w.g.) | 0.27 |
| Initial Resistance at Rated Airflow (inches w.g.) | 0.27 |
| Airflow @ 500 fpm (CFM) | 1000 |
| Energy Cost Index (stars) | 4 |
| Certifications | UL 900 |
| Product Depth (in.) | 1.75 |
| Product Height (in.) | 23.38 |
| Product Width (in.) | 11.5 |
| Product Dimensions (in.) | 23.38 x 11.5 x 1.75 |
| Import Designation | Made in USA |
| Country of Origin | United States |
---
Related Products
---